In 1939, Rikard Lindström wanted his family to be able to swim in the bay by the house without having to worry about the sewage polluting the water. He constructed the first Clivus Multrum on his property as he found that the existing toilet system was not reliable. Sweden had a new invention entirely in harmony with nature.
Interested neighbors began to take part in Rikard Lindström's ideas and a small production started. Kurt Atterberg, a patent engineer and also one of Sweden's most famous composers, persuaded Rikard Lindström to apply for a patent. A patent was filed in the 1960s under the name of Clivus, the Latin word for inclination.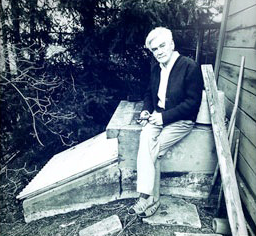 Nowadays the product is called Clivus Multrum. The concept "Multrum" was coined by Sven E. Arrhenius, a professor at Stockholm Veterinary University. He was of the opinion that "Multrum", a place of decay, should explain and complement the idea of Clivus.
Rikard Lindström died in 1993 but his name lives on. His closed system preserves water and prevents toilet waste from polluting water sources. There is a long way to go still before his invention reaches the millions of people still lacking clean water and acceptable toilets.
"Simple but brilliant", Sörmlands News (June 1971)